Wednesday, April 15, 2009
Banana Crumb Muffins
I saw some bananas in a basket waiting to be eaten by someone but no one was eating them as the bananas had turned brown.



I searched for a nice banana muffins recipe & I found this recipe from allrecipes.


Banana Crumb Muffins
Source : Lisa Kreft of allrecipes
1 1/2 cups all-purpose flour
1 teaspoon baking soda
1 teaspoon baking powder
1/2 teaspoon salt
3 bananas, mashed
3/4 cup white sugar
1 egg, lightly beaten
1/3 cup butter, melted
1/3 cup packed brown sugar
2 tablespoons all-purpose flour
1/8 teaspoon ground cinnamon
1 tablespoon butter

Method
1. Preheat oven to 375 degrees F (190 degrees C).
2. Lightly grease 10 muffin cups, or line with muffin papers.

3. In a large bowl, mix together 1 1/2 cups flour, baking soda, baking powder and salt.
4. In another bowl, beat together bananas, sugar, egg and melted butter.
5. Stir the banana mixture into the flour mixture just until moistened.
6. Spoon batter into prepared muffin cups.

7. In a small bowl, mix together brown sugar, 2 tablespoons flour and cinnamon.
8. Cut in 1 tablespoon butter until mixture resembles coarse cornmeal.
9. Sprinkle topping over muffins.

10. Bake in preheated oven for 18 to 20 minutes, until a toothpick inserted into center of a muffin comes out clean.
Labels: cupcakes
Thursday, February 12, 2009
Wedding Cake For My Niece
During the weekend before Chinese New Year, I was busy preparing the wedding cake for my niece (my husband's side). I was really stressed up as all the prices of goods have shot up tremendously.
I was so shocked when I went to my neighbourhood florist to buy the roses for my table decor. It's S$2.00 per stalk. My my my... talking about festive season.
Well, what to do, I still have to buy them for the table decor. Saw my money flew so high.
Back to my cake. This was the first time I made a two-tier cake as requested by the bride. Alhamdulillah, I made it. Everybody who saw it during the wedding was oohing.. & aahing... Hmmm... I never felt so proud of myself. Even my husband congratulated me on my wedding cake.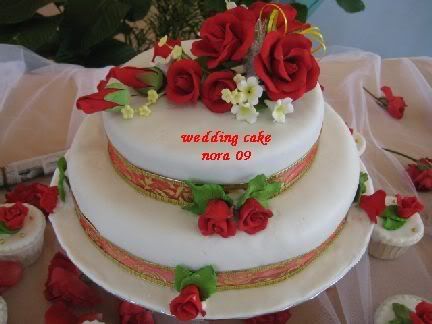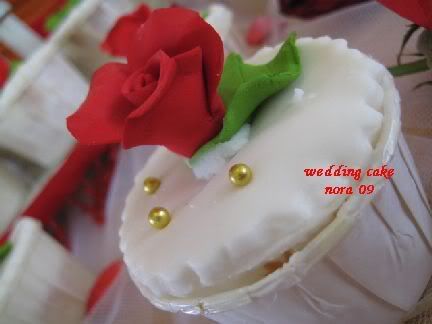 Wednesday, January 7, 2009
Easy Chocolate Chips Cookies
I was searching for an easy way to make chocolate chips cookies when I stumbled upon this recipe by Stefanie of Kitchen Capers. A lot of good reviews for this recipe & hence, I decided to baked them myself. I baked these cookies for the Hari Raya Qurban. It was a hit.
Easy Chocolate Chips Cookies
Ingredients
½ cup chopped almonds, toasted OR 1/2 cup rolled oats, toasted
1 heaped tbsp cocoa powder
1½ cup self-raising flour
Method
1. Beat butter with sugar and extract till combined, with a wooden spoon.
2. Sift in cocoa powder and salt, beat to combine.
3. Pour in condensed milk, beat well to mix.
4. Alternatively, use a whisk from step one.
5. Stir in nuts and chocolate chips.
7. Sift in flour and fold to combine, add a little milk to moisten if dough seems too dry.
8. Roll out teaspoon-fuls of dough into rounds, flatten slightly and bake for 9 to 10 minutes.
Labels: cookies
Last Minute Birthday Cake
A conversation between a mother and her daughter the night before her daughter's birthday.
Daughter: Ibu, for my birthday tomorrow, can I have a cake to celebrate with my tuition classmates?
Mother: I thought you promised no cake? Anyway, where can we find a cake this late? I just came back from work.

Daughter: I know, I've made a promise but I never celebrated with my classmates before. So, can I have a cake?

Mother: Ok, but can I make for you cupcakes instead? It's easier to bake.

Daughter: But I want to cut a cake in front of my classmates, please?

Mother: I'm tired & I've no plans to bake anything at all tonight, darling...

Daughter: Please, Ibu... (Pleading. Reminded me of Puss In Boots in the Shrek movies)

Mother: Oh... Ok.
Then, the mother rushed to check the larder whether she has enough ingredients to bake the cake.
The mother was me & I've to stay late to bake the cake. The next day, I've to wake up around 5 in the morning to decorate the cake. I've to rush coz I've to go to work after that.

The price of the look on my daughter's cake when she first saw her birthday cake... PRICELESS
Here's the Last Minute Birthday Cake.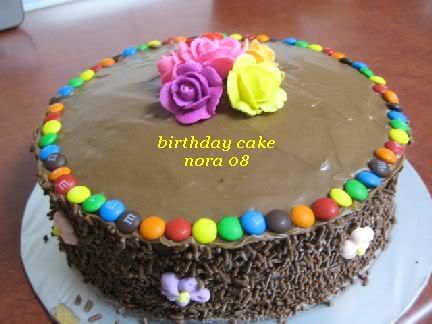 Cross-section of the cake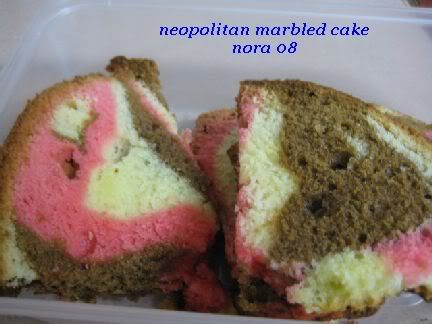 The leftover
Labels: cakes
Wednesday, December 31, 2008
Super Yummy Breakfast Pancakes
I got this recipe from Carrie Ow at Kitchen Capers. It was an easy recipe & tasted like McDonald's.
Super Yummy Breakfast Pancakes
Source: Carrie Ow of Kitchen Capers
Ingredients
100g self-raising flour
2 tbsp caster sugar
a pinch of salt
2 eggs, seperated
75ml milk
1 tbsp vegetable oil
1/2 tsp vanilla essence
Method
1. Sift flour into a mixing bowl, stir in sugar and salt (Mix well).
2. Make a well in the center of flour, add egg yolks, milk, vanilla essence and oil.
3. Stir to make a smooth batter.
4. Whisk egg white in a clean, dry bowl till stiff.
5. Stir in 1/4 of the egg whites to the batter to lighten it, then FOLD in the remaining egg white carefully.
6. Heat a non-stick frying pan and brush it lightly with a little oil.
7. Drop tablespoon of batter onto the frying pan (Leaving 2 cm space in between).
8. When bubbles appear, flip the pancake and cook till it turn golden brown.
9. Serve while it is hot.