Thursday, September 18, 2008
Custard Pudding With Jelly
Ramadhan is the time when most people love to eat all sweet stuff & we're of no exception. Hence, during the first weekend of Ramadhan, I made these custard pudding with jelly. They're mmmm deliciously sweet & so smooth flowing down the throat.
Try it and you'll know what I mean.
I took the recipe from Koleksi Resipi Diana.
Ingredients
(For the jelly)
1 box of jelly (any flavour you like)
(For the custard pudding)
4½ cups water
½ cup sugar
1 cup custard powder
1 cup evaporated milk
½ cup cocktail juice
(For decoration)
1 tin mixed cocktail
Method
(For the jelly)
1. Prepare jelly as per the instructions on the box.
2. Pour into containers & put them aside to harden.
(For the custard pudding)
1. In a saucepan over a small fire, mix custard powder, sugar & water.
2. Stir it slowly.
3. When it starts to boil, pour evaporated milk & cocktail juice.
4. Keep on stirring until the custard mixture is thick & shiny.
5. Remove from fire.
6. Pour the custard mixture into the awaiting jelly in the containers.
7. Cool them in the fridge.
8. Serve with the mixed cocktail.
Labels: dessert
Wednesday, September 10, 2008
Decorated Cookies
Last Sunday was my daughter's Islamic birthday. We celebrated her birthday by giving decorated cookies to her madrasah classmates on Saturday and also to her mother-tongue classmates on Monday.
It was a rush job as I only did the icing after sahur. I've got not enough time to fill the cookies, just the outline.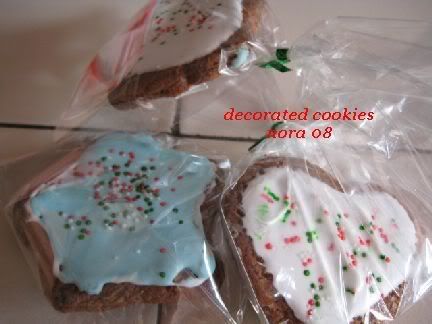 For her madrasah teachers

For her madrasah classmates & mother-tongue classmates.
Cookies iced, waiting to be packed individually.
Cookies all packed individually & ready to go in a box!
Decorated Cookies
Origin: Sweetlilly's Kitchen
Ingredients
250g butter
50g castor sugar
1 egg
1 egg yolk
300g plain flour
1 tablespoon corn flour
100g ground almond
1 teaspoon vanilla essence
Method
1. Cream butter & sugar till creamy.
2. Add in egg, egg yolk & vanilla essence.
3. Add in plain flour & ground almond.
4. Mix into a dough.
5. Roll out the dough with the thickness of 6mm & use a cookie cutter to cut out the cookies.
6. Lay onto a tray and bake at 150C for about 20 minutes.
7. When the cookies are cooled, you can decorate them with royal icing.
Royal Icing
Ingredients
1 egg white
200g icing sugar
1 teaspoon lemon juice
Method
1. Whisk egg white till soft peak.
2. Add in castor sugar & lemon juice & whisk again till stiff peak.
3. You can start decorating the cookies.
4. After decorating the cookies, put them back into the oven for about 10 minutes.
Labels: cookies
Friday, September 5, 2008
Marshmallow
I've tried both recipes but I found that the recipe from Dapur Tanpa Sempadan aka known as Mat Gebu is easier & faster to make.

MARSHMALLOWS
Origin : Mat Gebu

Ingredients

1/4 cup cornstarch*
1/3 cup icing sugar*(*combine together & sift)
21g halal gelatine
1/3 cup water
2/3 cup fine sugar
1/2 cup corn syrup/glucose syrup
a pinch of salt
1 teaspoon strawberry emulco (or whichever flavour that you prefer)

Method


1. Brush a bit of oil on the base & sides of the tin measuring 8" x 8" x 3".
2. Sprinkle the sifted cornstarch & icing sugar evenly.
3. Pour out the excess sifted cornstarch & icing sugar.
4. Put it aside for later use.
5. Combine gelatine with water.
6. Leave it aside for 5 minutes.
7. Add fine sugar & boil on a slow fire.
8. Mix it till the gelatine has dissolved completely.
9. Pour the gelatine mixture into a mixing bowl together with the corn syrup, strawberry emulco and a pinch of salt.
10. Blend using the mixer on high speed for 15 minutes.
11. Transfer to the prepared tin and spread evenly.
12. Let it harden for about 2 hours but don't put in the fridge!
13. Cut with a wet knife and cut to whatever shapes that you prefer.
14. Dust the cut marshmallow with the balance sifted cornstarch & icing sugar.
15. Keep it in a container.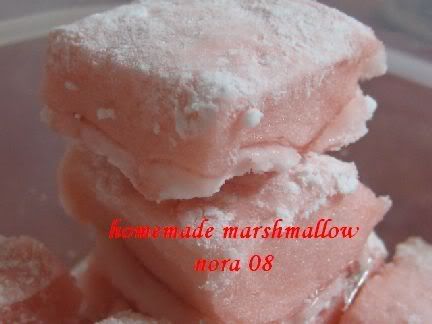 Origin

:
allrecipes

.com
Ingredients
120g confectioners' sugar for dusting
400g white sugar
15ml light corn syrup
295ml water, divided
25g unflavored gelatine
2 egg whites
5 ml vanilla extract

Method
1. Dust a 9" x 9" square dish generously with confectioners' sugar.
2. In a small saucepan over medium-high heat, stir together white sugar, corn syrup and 3/4 cup water.
3. Heat to 121 to 129 degrees C or until a small amount of syrup dropped into cold water forms a rigid ball.
4. While syrup is heating, place remaining water in a metal bowl and sprinkle gelatine over the surface.
5. Place bowl over simmering water until gelatine has dissolved completely.
6. Keep in a warm place until syrup has come to temperature.
7. Remove syrup from heat and whisk gelatin mixture into hot syrup.
8. Set aside.
9. In a separate bowl, whip egg whites to soft peaks.
10. Continue to beat, pouring syrup mixture into egg whites in a thin stream, until the egg whites are very stiff.
11. Stir in vanilla.
12. Spread evenly in the prepared pan and let it rest for 8 hours or overnight before cutting.
Tuesday, September 2, 2008
Strawberry Shortcake For My Grandniece
Made a promise to my sister that I'll make a birthday cake for her first granddaughter's birthday celebration.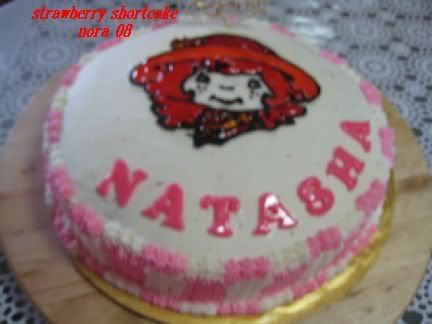 Happy Birthday to Natasha Andrienna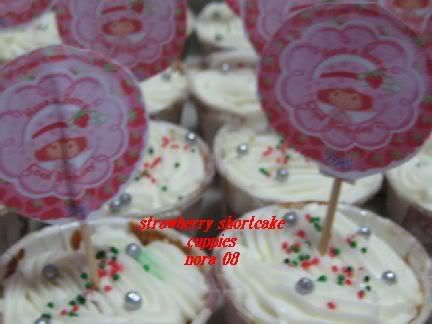 My daughter helped with the sprinkles.