Wednesday, January 7, 2009
Easy Chocolate Chips Cookies
I was searching for an easy way to make chocolate chips cookies when I stumbled upon this recipe by Stefanie of Kitchen Capers. A lot of good reviews for this recipe & hence, I decided to baked them myself. I baked these cookies for the Hari Raya Qurban. It was a hit.
Easy Chocolate Chips Cookies
Ingredients
½ cup chopped almonds, toasted OR 1/2 cup rolled oats, toasted
1 heaped tbsp cocoa powder
1½ cup self-raising flour
Method
1. Beat butter with sugar and extract till combined, with a wooden spoon.
2. Sift in cocoa powder and salt, beat to combine.
3. Pour in condensed milk, beat well to mix.
4. Alternatively, use a whisk from step one.
5. Stir in nuts and chocolate chips.
7. Sift in flour and fold to combine, add a little milk to moisten if dough seems too dry.
8. Roll out teaspoon-fuls of dough into rounds, flatten slightly and bake for 9 to 10 minutes.
Labels: cookies
Last Minute Birthday Cake
A conversation between a mother and her daughter the night before her daughter's birthday.
Daughter: Ibu, for my birthday tomorrow, can I have a cake to celebrate with my tuition classmates?
Mother: I thought you promised no cake? Anyway, where can we find a cake this late? I just came back from work.

Daughter: I know, I've made a promise but I never celebrated with my classmates before. So, can I have a cake?

Mother: Ok, but can I make for you cupcakes instead? It's easier to bake.

Daughter: But I want to cut a cake in front of my classmates, please?

Mother: I'm tired & I've no plans to bake anything at all tonight, darling...

Daughter: Please, Ibu... (Pleading. Reminded me of Puss In Boots in the Shrek movies)

Mother: Oh... Ok.
Then, the mother rushed to check the larder whether she has enough ingredients to bake the cake.
The mother was me & I've to stay late to bake the cake. The next day, I've to wake up around 5 in the morning to decorate the cake. I've to rush coz I've to go to work after that.

The price of the look on my daughter's cake when she first saw her birthday cake... PRICELESS
Here's the Last Minute Birthday Cake.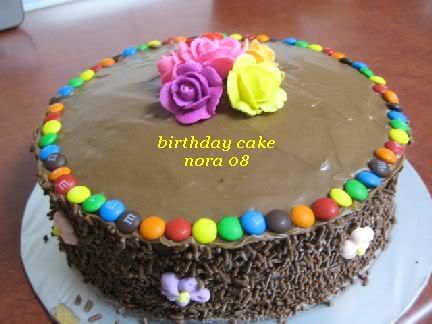 Cross-section of the cake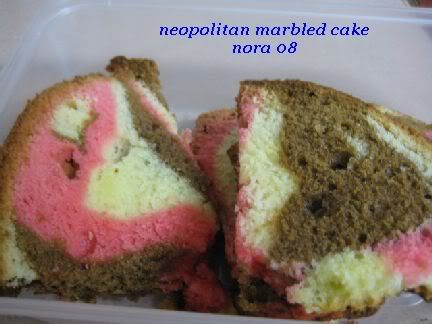 The leftover
Labels: cakes