Wednesday, September 10, 2008
Decorated Cookies
Last Sunday was my daughter's Islamic birthday. We celebrated her birthday by giving decorated cookies to her madrasah classmates on Saturday and also to her mother-tongue classmates on Monday.
It was a rush job as I only did the icing after sahur. I've got not enough time to fill the cookies, just the outline.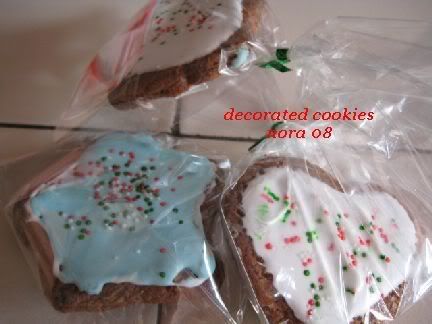 For her madrasah teachers

For her madrasah classmates & mother-tongue classmates.
Cookies iced, waiting to be packed individually.
Cookies all packed individually & ready to go in a box!
Decorated Cookies
Origin: Sweetlilly's Kitchen
Ingredients
250g butter
50g castor sugar
1 egg
1 egg yolk
300g plain flour
1 tablespoon corn flour
100g ground almond
1 teaspoon vanilla essence
Method
1. Cream butter & sugar till creamy.
2. Add in egg, egg yolk & vanilla essence.
3. Add in plain flour & ground almond.
4. Mix into a dough.
5. Roll out the dough with the thickness of 6mm & use a cookie cutter to cut out the cookies.
6. Lay onto a tray and bake at 150C for about 20 minutes.
7. When the cookies are cooled, you can decorate them with royal icing.
Royal Icing
Ingredients
1 egg white
200g icing sugar
1 teaspoon lemon juice
Method
1. Whisk egg white till soft peak.
2. Add in castor sugar & lemon juice & whisk again till stiff peak.
3. You can start decorating the cookies.
4. After decorating the cookies, put them back into the oven for about 10 minutes.
Labels: cookies