Friday, September 5, 2008
Marshmallow
I've tried both recipes but I found that the recipe from Dapur Tanpa Sempadan aka known as Mat Gebu is easier & faster to make.

MARSHMALLOWS
Origin : Mat Gebu

Ingredients

1/4 cup cornstarch*
1/3 cup icing sugar*(*combine together & sift)
21g halal gelatine
1/3 cup water
2/3 cup fine sugar
1/2 cup corn syrup/glucose syrup
a pinch of salt
1 teaspoon strawberry emulco (or whichever flavour that you prefer)

Method


1. Brush a bit of oil on the base & sides of the tin measuring 8" x 8" x 3".
2. Sprinkle the sifted cornstarch & icing sugar evenly.
3. Pour out the excess sifted cornstarch & icing sugar.
4. Put it aside for later use.
5. Combine gelatine with water.
6. Leave it aside for 5 minutes.
7. Add fine sugar & boil on a slow fire.
8. Mix it till the gelatine has dissolved completely.
9. Pour the gelatine mixture into a mixing bowl together with the corn syrup, strawberry emulco and a pinch of salt.
10. Blend using the mixer on high speed for 15 minutes.
11. Transfer to the prepared tin and spread evenly.
12. Let it harden for about 2 hours but don't put in the fridge!
13. Cut with a wet knife and cut to whatever shapes that you prefer.
14. Dust the cut marshmallow with the balance sifted cornstarch & icing sugar.
15. Keep it in a container.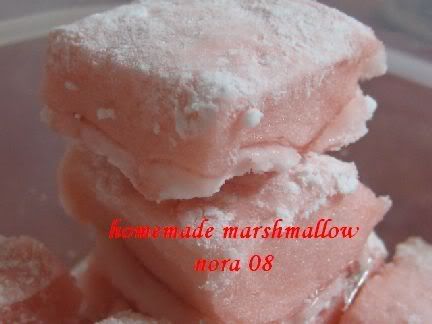 Origin

:
allrecipes

.com
Ingredients
120g confectioners' sugar for dusting
400g white sugar
15ml light corn syrup
295ml water, divided
25g unflavored gelatine
2 egg whites
5 ml vanilla extract

Method
1. Dust a 9" x 9" square dish generously with confectioners' sugar.
2. In a small saucepan over medium-high heat, stir together white sugar, corn syrup and 3/4 cup water.
3. Heat to 121 to 129 degrees C or until a small amount of syrup dropped into cold water forms a rigid ball.
4. While syrup is heating, place remaining water in a metal bowl and sprinkle gelatine over the surface.
5. Place bowl over simmering water until gelatine has dissolved completely.
6. Keep in a warm place until syrup has come to temperature.
7. Remove syrup from heat and whisk gelatin mixture into hot syrup.
8. Set aside.
9. In a separate bowl, whip egg whites to soft peaks.
10. Continue to beat, pouring syrup mixture into egg whites in a thin stream, until the egg whites are very stiff.
11. Stir in vanilla.
12. Spread evenly in the prepared pan and let it rest for 8 hours or overnight before cutting.