Tuesday, November 11, 2008
Selamat Pengantin Baru
"Selamat Pengantin Baru" to my nephew & his lovely wife. They had their akad nikah last Friday night.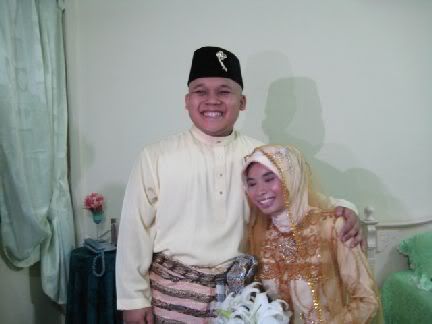 Semoga jodoh kamu berdua berkekalan hingga ke syurga. Amin.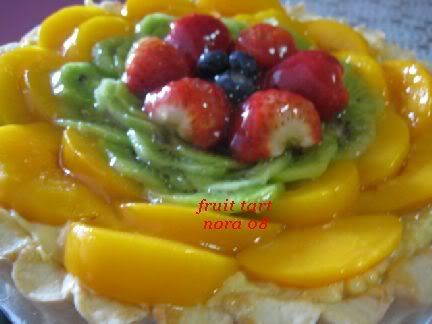 I contributed a fruit tart for the hantaran.
Sweet Short-crust Pastry
By Donna Hay's Modern Classics 2
Ingredients (serves 8)
2 cups plain flour
3 tbsp caster (superfine) sugar
150g cold butter, diced
2-3 tbsp iced water
1 beaten egg for glazing
Method
1. Place flour, butter and sugar in a bowl and rub in until mixture resembles bread crumbs.
2. Add in iced water to form a smooth dough and knead until just combined.
3. Wrap in cling film and refrigerate for 30 minutes.
4. Roll out pastry on a lightly floured surface until 3mm thick.
5. Place in 22cm (9 inch) tart or flan tin and prick base using fork.
6. Line with non-stick baking paper and fill with baking beans or weight.
7. Bake in a preheated oven of 180 deg c for 10 mins.
8. Remove beans and paper and glaze with beaten egg.
9. Bake for a further 10 mins until crust is golden brown.
Creme Patissiere
Ingredients
2 cups (480ml) milk
1 tsp vanilla extract/essence
4 egg yolks
1/3 cup caster (superfine) sugar
1/3 cup cornstarch (I used custard powder)
Method
1. Place milk and vanilla extract/essence in a saucepan over medium high heat and bring to a boil.
2. Set aside.
3. Whisk together egg yolks and caster sugar in a bowl until thick and pale.
4. Add in cornstarch and whisk to combine.
5. Place a piece of non-stick baking paper or plastic wrap directly on the pastry cream and set aside to cool.
6. Spoon onto tart shells and serve with fresh fruits of your choice.
* for the glaze, you can get the apricot glazing gel from Phoon Huat. add abt 1-2 tbsp hot water to the gel and brush onto the fruits. Otherwise, combine strawberry jam + hot water. Mix well and put thru' a fine sieve to obtain glaze. *